Shipping That Sells: Reverse Logistics as a Simple, Sustainable Strategy for eCommerce
In the Reverse Logistics Association Q4 2021 Expectations survey, more than 50% of respondents indicated that they expected to see increases in costs and overall returns during Q4 2021. With warehouse space at a premium, continued shortages in staffing, and a demand for eCommerce that shows no signs of slowing down, many shippers are viewing returns as simply an unavoidable headache. In fact, NBC news recently reported that some retailers are offering loyal customers the ability to simply keep unwanted items as a cost savings effort. Perhaps this is merely the cost of doing business, but it is not a bill anyone enjoys paying.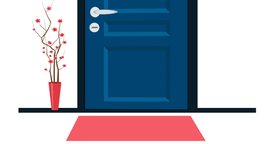 What if reverse logistics could be simplified, or could even be a point of added value and brand delight for your customers? As we continue the inevitable reshelving, restocking, reverse transit dance that the new year brings, we offer a message of hope: with the right technology, messaging, and delivery partner, you could take your returns process from pain point to powerhouse.
The Shipping Situation: eCommerce Growing Pains
There's no denying it: 2021 was a banner year for eCommerce. Call it "unprecedented" or "exponential"; growth was everywhere. The National Retail Federation projected a growth rate between 18 percent and 23 percent for "non-store and online" retail sales amounting to a range of $1.09 trillion to $1.13 trillion. During the peak hour of Cyber Monday 2021, consumers spent $12m every minute. In addition, shoppers took to shopping for the holidays earlier and more eagerly as "supply chain shortages" regularly made front-page news. However, with these growth spurts came inevitable pains: from strained carrier capacity to unexpected final mile rate increases to backlogged cargo at ports creating downstream delivery delays, shippers didn't have it easy. And Boxing Day has likely delivered very little relief. The fact is that as your sales grow, so do the number of returns. As the number of returns grows, you'll feel the impact resonating throughout your organization as you devise new workflows and approaches to these new levels of complexity.
So, how can we simplify the process without putting all the pain on your consumers (or their wallets?) To keep your returns process consumer-friendly and cost-efficient, consider these options:
Offer options: Giving your customer choices pays off. If your business can accommodate return-to-store, consider using this option.

Add automation: An easy-to-use consumer-friendly returns process starts with two critical aspects of the last mile delivery experience: the packaging and the tracking technology. Any time you can eliminate steps in the process, streamline correspondence and keep things simple, you'll find that cost savings and customer satisfaction follow. Modern technologies will allow eCommerce shippers to keep all shipment and return communications within one workflow and minimize the need for re-work. Meanwhile, unified shipping and return labels and smart packaging choices that allow for re-use can give your customers the tools they need to easily self-schedule and ship their returns without added waste. Planning for your customers "

bracketing

" their purchase sizes or colors can help your business more easily replenish and resell and reduce negative experiences or reviews.

Multi-carrier strategy: Did peak season surcharges surprise you in 2021? With a diversified carrier strategy, you'll have better control over shipping costs throughout the year. Meanwhile, the right multi-carrier eCommerce technology can automate transactions, eliminating the complexity that comes with a broader number of local or regional last-mile delivery partners.
Extra Credit: Stand Out as a Sustainable Shippe

r
Did you know that product returns in the United States generate 15 million tons of carbon emissions—the same amount produced by 3 million cars? It's true. With Millennial and Generation Z eCommerce shoppers showing a distinct preference towards eco-conscious brands, sustainability could be a true differentiator for your business. But what does sustainability have to do with reverse logistics? It's simple. With consumers ordering more sizes and colors, or even panic-buying items due to fear of shipping delays or shortages, more purchases end up sitting in homes never to be used. When returns aren't easy, they often simply won't happen, creating waste and possibly ending your relationship with that consumer entirely.
Meanwhile, some shippers are taking returns only to send items to landfills. That's the last thing an eco-conscious consumer wants to hear! Your business can stand out to the new generation of consumers by offering a reverse logistics process that is easy, transparent, AND green. First, make it easy for customers to manage their return process by providing a simple, unified shipping experience with reusable labels, packages, and more. In addition, consider opting for recycled or recyclable packaging and communicating clearly with your customers about the impact their choices will have. In the modern era, an informed consumer is a happy consumer, and a happy eCommerce consumer will return to their cart again and again!
Want more tips like this? Our eCommerce smart shipping guide can help you set your year up for success. Unlock ideas for carrier diversification, sustainable shipping and more by filling out the form here: