Press Release: TForce Partners with Folds of Honor to Fund Education For Veteran Families
TForce launches company philanthropy program with a donation match campaign
September 6, 2018- Dallas, TX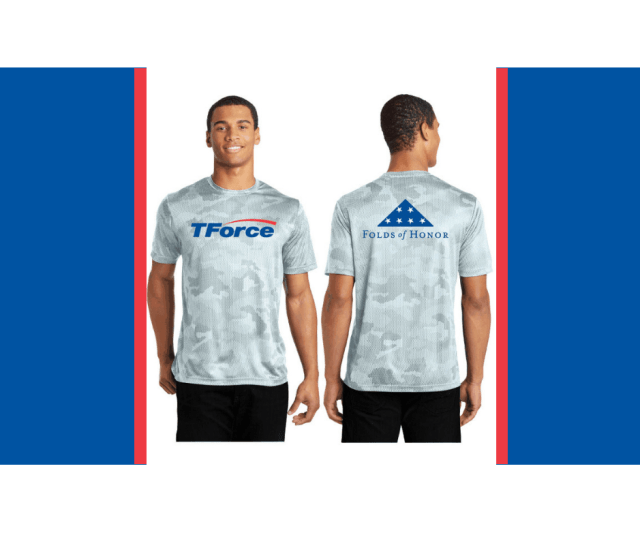 TForce announces today its premier partnership with Folds of Honor, the nonprofit that aids the families of fallen and injured military veterans by providing them with scholarships for education. The new program is available to all employees and independent contractors with the option to purchase TForce gear with a special camouflage design and Folds of Honor logo. TForce has committed to match donations for every item purchased. The company is offering a variety of items including, hats, book bags, tumblers, pins, and apparel.
Scott Leveridge, President of TForce US stated, "After attending the Dallas charity golf tournament in 2014, I had the honor of meeting Sarah Duncan from Folds of Honor and was inspired by Folds' mission and commitment to the families of our heroes. TForce is a people company that values education, and I am excited for the company to participate in a program that allows each individual a chance to contribute and do their part."
TForce's driving force delivers strong with more than 4,500 delivery professionals nationwide with the support of 1000 employees. Participation in the program is completely voluntary, and with an expansive network in place, TForce hopes to be able to make a sizeable donation to the Foundation.
Sarah Duncan, Regional Development Officer of Folds of Honor stated, "Folds of Honor is honored to partner with TForce this year. We are thankful for our partners who recognize that freedom is not free. Through this new partnership, Tforce is helping us bridge the gap to honor the sacrifices made by so many and to help make it possible to educate their legacy."
TForce hopes to spring awareness of Folds of Honor and the need for services and support for veterans and their families. This partnership, along with the launch of a new Customer Experience Program, solidifies TForce is a company looking to grow and engage with their community while a making lasting impact on those they serve.
About TForce
TForce provides same-day final mile transportation solutions nationwide. TForce Final Mile and TForce Logistics make up our dedicated, collaborative, and professional organization committed to delivering innovative logistics solutions and an exceptional customer experience. To learn more: www.tforce.com
About Folds of Honor
Folds of Honor is a 501(C)(3) nonprofit organization that provides educational scholarships to families of military men and women who have fallen or been disabled while on active duty in the United States armed forces. Our educational scholarships support private education tuition and tutoring for children in grades K-12, as well as higher education tuition assistance for spouses and dependents. Founded in 2007 by Major Dan Rooney, a F-16 fighter pilot currently stationed at Tyndall AFB Florida as a member of 301st Fighter Squadron, who served three tours of duty in Iraq. Folds of Honor is proud to have awarded more than 16,000 scholarships in all 50 states, as well as Guam, Puerto Rico and the Virgin Islands, including more than 3,500 in 2016 alone. For more information or to donate in support of a Folds of Honor scholarship, visit foldsofhonor.org.