Press Release: TForce Final Mile Launches New Customer Experience Model and TForce Tour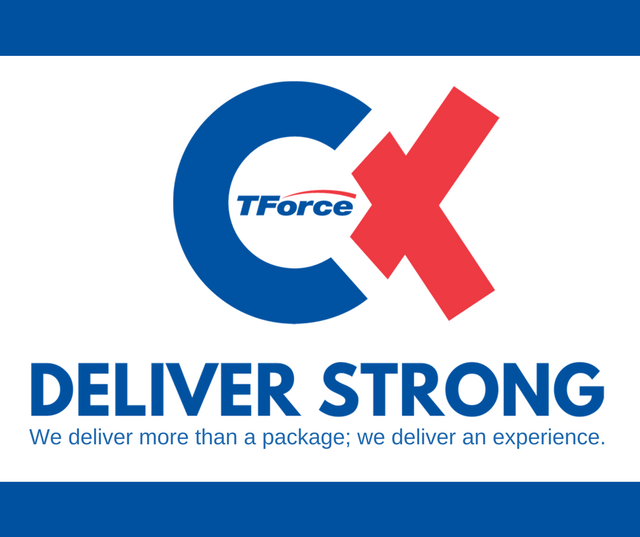 Immersive Customer Experience Program makes home delivery a more personal endeavor
July 24, 2018 – Dallas, TX
TForce Final Mile announces today the launch of a customer experience initiative to personalize delivery services. This new CX initiative positions customers as the most important aspect of the delivery process. Under the vow to Deliver Strong, the company has launched its first TForce Tour across the US. Each branch will host the Customer Experience Launch Team who will debut the program with an orientation led by Director of Customer Service, Adrienne Paskell and Director of Operational Support Guy Farthing among others.
Adrienne said, "It's important that our staff and delivery partners are passionate about the customers we serve. We are logistics experts but at the end of the day, a happy customer with an on-time delivery experience, means we are executing on our promise to go above and beyond our usual call of duty. Every positive customer experience means the companies we serve will grow and thrive and retain a loyal consumer base for years to come. Not only that but our mission is to inspire our company to truly take on this program and to deliver strong in every way."
TForce delivers for many e-commerce businesses which often positions TForce delivery professionals as the main point of contact with a company and its brand. TForce makes the promise to act as an extension of every company they serve to be able to give each customer a positive memory.
The Deliver Strong message represents TForce's commitment to do more than deliver a package, but to also deliver an experience. TForce provides standardized and customized logistics solutions to enterprise and healthcare companies. The company has found a way to break through the normal "delivery" barrier and enter into real relationships with their customers, delivery professionals, and those at home and office waiting for their deliveries.
TForce offers customized final mile delivery solutions to enterprise and e-commerce brands. With over 6000 delivery professionals handing packages direct to consumers every day, a commitment to quality customer experience enhances TForce's notable, reliable, and efficient services. With 30 years of logistics expertise, innovative technologies, and a digital supply chain, it creates a seamless process for the customer and the customer's customer.
"It's all about the professionalism, the smile, and executing reliable delivery that consumers want. With this launch of our CX program, we will build upon what we have already successfully accomplished in CX and really make an impact with every single person we interact with. Our quest is to delight our customers, inspire our employees, motivate, and support our partners to create the best possible memories of our service. CX is what will set us apart from other companies who just make the delivery. We and our professional delivery partners definitely do more," said Guy Farthing, a customer experience leadership team member.
The Customer Experience program stems from the need that has evolved from the ever-changing wants and needs of consumers who expect 2-day or same-day delivery with little to no extra cost. In this case, consumers click and ship and expect to be handed their packages as soon as possible. TForce, same-day logistics specialists, can deploy delivery professionals nationwide to make those deliveries direct to consumer and with an amazing experience.